HOUR OF CODE FOR YOUNGER CODERS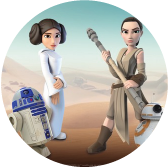 Star Wars: Building a Galaxy with Code
Learn to program droids, and create your own Star Wars game in a galaxy far, far away.
Ages 6+
Start Coding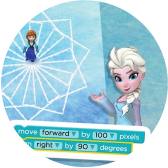 Code with Anna and Elsa
Let's use code to join Anna and Elsa as they explore the magic and beauty of ice. You will create snowflakes and patterns as you ice-skate and make a winter wonderland that you can then share with your friends!
Ages 8+
Start Coding
UNPLUGGED ACTIVITIES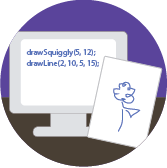 Unplugged: Computer Drawing Project
Students (programmers) draw a picture, and take turns giving the class (the computers) steps to recreate their drawing. A great off-the-computer introduction to how programming works.
Ages 6+
(K - 12th grade / Daisies - Ambassadors)
Download the PDF Guide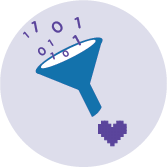 Unplugged: Input and Output, Math Activity
Connect functions to both math and real world problems.
Ages 12+
(6th - 12th grades / Cadettes - Ambassadors)
Download the PDF Guide
VIDCODE, GSGNY, & TECHNOLOGY
JOIN GIRL SCOUTS OF GREATER NEW YORK
Girl Scouts of Greater New York is New York City's largest girls-only leadership program, reaching 31,000+ girls ages 5 to 17 in every zip code of the five boroughs with the help of 8,100+ dedicated volunteers.
Girl Scouts enjoy programs that include STEM (Science, Technology, Engineering and Math), Business & Entrepreneurship, Environmental Leadership, and Personal Identity Leadership.
Girl Scouts builds girls of courage, confidence, and character who make the world a better place.